President Museveni on Tuesday gave the go-ahead for a Russian-built helicopter that had been refurbished and overhauled in Nakasongola, Uganda.
The helicopter, which was refurbished at the Pro Heli Plant International Services Limited at Nakasongola Air base, is said to be the first of its sort in sub-Saharan Africa.
"I am glad to have commissioned the first overhauled MI-24 helicopter at the Nakasongola facility. This is another example of our excellent and longstanding relations with Russia, based on a convergence of interests that continue to bear logical dividend for Africa and Russia," the president tweeted on Tuesday evening.
However, Mr. Museveni claimed that Russia and Uganda's military collaboration began in 1986 when he dispatched the late Eriya Kategaya to purchase MI 17 from the Soviet Union.
However, he said that there was anarchy immediately following the fall of the Soviet Union under Gorbachev and Yeltsin, and he congratulated President Vladimir Putin for bringing about stability.
"I want to congratulate President Putin for stabilising Russia and strengthening it again," he said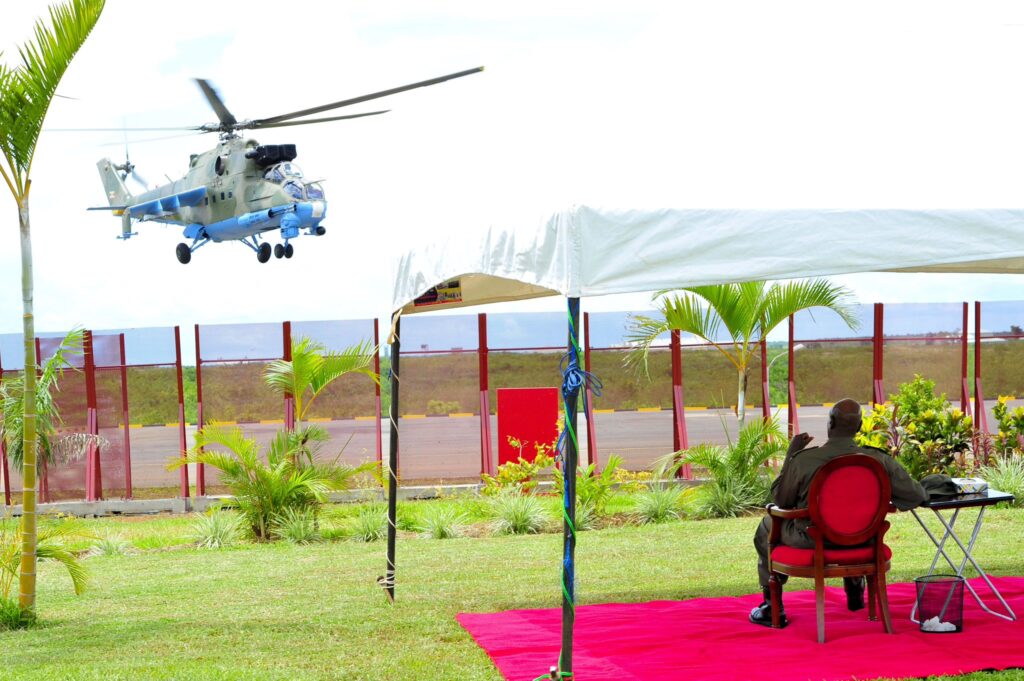 Upon arrival, Mr. Museveni toured one of the hangers at the facility with Mr. Valari Copcin, the CEO PRO Heli International Services Ltd.
The President, who took a shot at the Western nations, claimed that he has frequently written to his Western allies to suggest ways in which the world should be administered via cooperation rather than competition.
"We don't want this nonsense of rivalry, what are you rivaling for?  We have got enough problems to solve as a human race. It should be through cooperation and respecting the internal issues of countries. How can you have the whole world thinking the same way", he wondered.
He claimed that he had previously stated that Africa could not toe the line because Russia had never hurt the continent when the West attempted to rally African nations to oppose it.
Mr. Valari Copcin, CEO of PRO Heli International Services, who spoke at the same event wants the facility to become a one-stop shop for all aviation needs. He stated that in addition to Brazil, other African and Latin American nations might also benefit from the establishment of facilities in Nakasongola for the maintenance of Sukhoi aircraft.
According to Mr. Vincent Ssempijja, Minister of Defense and Veteran Affairs, they are saving a lot thanks to the facility because it costs more than US$ 2 million (Shs7.5 billion) to carry one helicopter to and from another country for hauling and repair.
According to the Chief of Defense Forces (CDF), Gen. Wilson Mbadi, the facility will help 200 Ugandan engineers gain work, increase their combat readiness, and advance defense diplomacy because other nations will be using the plant's services.