National Unity Platform (NUP) president Robert Kyagulanyi, also known as Bobi Wine, was arrested shortly after his arrival at Entebbe airport at 10:20 a.m.
He was greeted by security officials on the tarmac and subsequently transferred into a waiting convoy of cars.
The reason for his arrest has not yet been disclosed by the police.
Arrest Amid International Mobilization Tour
Kyagulanyi had just returned from an international mobilization tour for his political party, the National Unity Platform.
His arrest upon arrival has raised concerns about the nature of the charges or reasons behind the arrest.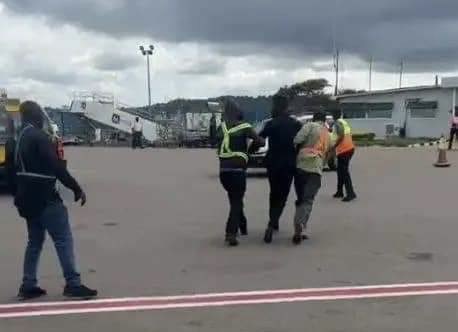 Prohibition on Supporters' Procession
A day before Kyagulanyi's return, the police announced that his supporters would not be allowed to organize a procession to welcome him back into the country.
This decision may have been a preemptive measure to prevent gatherings and potential unrest.
Preceding Arrests of Supporters
Prior to Kyagulanyi's return, several of his supporters were reportedly arrested when they attempted to display placards in preparation for his arrival.
These actions indicate the government's readiness to curtail any public demonstrations or gatherings related to the opposition leader.
As of now, the circumstances surrounding Robert Kyagulanyi's arrest remain unclear, and it is expected that more details will emerge as the situation develops.
We will continue to monitor this situation and provide updates as information becomes available.