A recent heavy downpour on Sunday resulted in flooding in part of the departure terminal at Entebbe International Airport in Uganda, bringing into question the quality of the ongoing refurbishment and expansion works.
While it remains uncertain whether substandard construction work caused this incident, the airport's remodeling has been plagued with reports of questionable workmanship, project delays, and budget overruns.
Officials from the Uganda Civil Aviation Authority (UCAA) stated that the flooding issue has been resolved and attributed it to leaks from upper floors of the terminal building.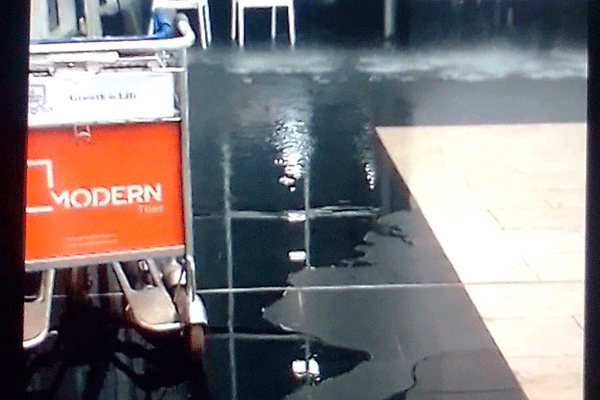 They emphasized that the situation was promptly rectified and expressed regret for any inconvenience caused.
Efforts are underway to prevent such incidents in the future, and the ongoing expansion aims to enhance the passenger experience.
The construction work in the affected area is being carried out by the Uganda People's Defence Forces Engineering Brigade.
While there have been claims regarding the quality of the work, army spokesperson Brig Felix Kulaigye denied the military's responsibility for the flooding.
He explained that the issue was related to leaks on the second and third floors of the building, areas outside the scope of the army's work.
Brig Kulaigye defended the Engineering Brigade's work quality and stated that they are closely monitored to maintain high standards.
Officials from the aviation authority were not available for immediate comments regarding responsibility for the affected areas.
The renovation and expansion project at Entebbe International Airport, funded by China's Exim Bank, has faced various challenges, including reports of questionable work quality, substantial cost overruns, delays, and concerns about China taking over airport management to recover the Exim loan.
The parliamentary Committee on Physical Infrastructure also questioned the suitability of the UPDF Engineering Brigade for this type of project due to their lack of experience in such endeavors.
The expansion project aims to increase the terminal's capacity from two million passengers annually to at least 3.5 million.
Uganda is scheduled to undergo safety and security audits conducted by the International Civil Aviation Organization (ICAO) to measure compliance with international standards and recommended practices.